30 Nov

NON SOLO POP! – NOT JUST POP ART! Works of the sixties from the MAGI'900 collection

NON SOLO POP! – NOT JUST POP ART!
Works of the sixties from the MAGI'900 collection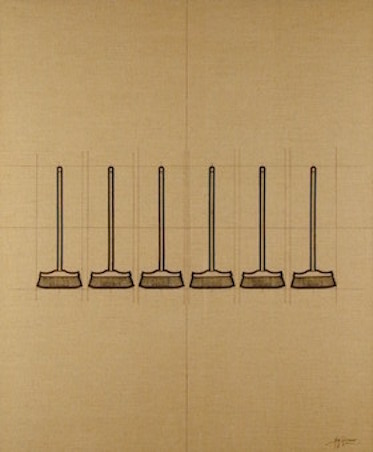 6 October 2018 through 13 January 2019
Curator Valeria Tassinari
Radical, playful, dramatic, unprejudiced, captivating, politicising, inconvenient, decorative, elegant, minimalist, kitsch…
In the collective imagination, the international art scene of the sixties was all about experimentation and reacting to the inheritance of the past. But, while it is true that in that decade artists in the United States and Europe came up with new ways of conceiving the role of the image in art and life, it is undeniable that the break with the post-war period was not total.
This fact inspires an intense, heterogeneous exhibition featuring a selection of over a hundred works of art by the same number of artists from MAGI'900's vast permanent collection, recalling that, alongside the movements and names that have gone down in history (thanks in part to their growing success on the art market), there were also countless others, in a polyphony of artistic idioms perfectly representing the climate of the day, one of total openness and germinating creativity.
Fifty years after 1968, commonly remembered as a year of rebellion and provocation but also a time of great economic growth marked by the power of the imagination in everyday life, this installation curated by Valeria Tassinari underlines the current relevance of the work that now contributes to allowing us to reinterpret the ferment of those times with new attention and curiosity. And, while underlining the accent on the sixties as a crucible of experimentation, the exhibition also demonstrates that, in Italy in particular, there were also artists who were, in some cases, even conservative, in an unprejudiced exploration of the variety of paths and personalities that existed in this feverish decade when artists and intellectuals were reclaiming a central role in society, amidst all the explorations and contradictions of the times.
Precious testimony of this variety comes, for example, from the extraordinary Collezione minima 8×10 collected by Cesare Zavattini, a precious selection of which is on exhibit, or the comparison of radically different sculptures of similar subjects, such as Melotti's poetic Alberello or Marotta's ironic Palma of fluorescent methyl acrylate. As well as the explicit figuration of Guttuso, Fontana's "holes", Pomodoro's "sphere", Ferroni's Existential Realism or Alviani's programmed art, Stefanoni's conceptual approach and Afro's late informal art, the linguistic games of Concrete poetry and Mariani's pop art seduction, with use of both traditional and industrial materials.
It is precisely to underline the relationship between art and industrial innovation in the museum founded by collector and entrepreneur Giulio Bargellini that, on Saturday 6 October at 17:00, during the exhibition opening, Patrizio Bianchi – councillor for the coordination of European policies for development, school, vocational training, university, research and labour in the Region of Emilia-Romagna – will lead the public in a reflection on the characteristics of the sixties. From the international scenario and the extraordinary transformations Italy was undergoing at the time to enterprise and expression of creativity in this area too, with testimony from some of Emilia's best-known businesspeople, including Enrico Fava, Tonino Lamborghini, Ugo Poppi and Marino Golinelli, whose extraordinary commitment to culture and innovation now offers an international model of synergy between creativity and confidence about the future.
WORKS BY:
Getulio Alviani, Marina Amadio, Vincenzo Arena, Rodolfo Aricò, Orazio Bacci, Afro Basaldella, Mirko Basaldella, Fabrizio Bertuccioli, Alberto Biasi, Alessandra Bonelli, Carlo Bonfà, Maurizio Bonora, Aldo Borgonzoni, Dino Boschi, Paolo Buggiani, Enrico Bugli, Sara Campesan, Carmelo Cappello, Gaetano Carboni, Antonio Carena, Mino Ceretti, Giorgio Cigna, Marcello Confetti, Carlo Cremaschi, Pirro Cuniberti, Sandro De Alexandris, Paola De Laurentiis, Mino Delle Site, Gerardo Di Fiore, Luciano Fabro, Giuseppe Ferrari, Alfredo Ferretti, Gianfranco Ferroni, Lucio Fontana, Alfonso Frasnedi, Carlo Gajani, Marcolino Gandini, Marco Gastini, Gustavo Giulietti, Gianfranco Goberti, Maurizio Guala, Renato Guttuso, Ettore Innocente, Ugo La Pietra, Franco Lastraioli, Mario Lattes, Ermanno Leinardi, Sandro Luporini, Roberto Malquori, Renato Mambor, Mauro Manfredi, Edgardo Mannucci, Umberto Mariani, Fernando Mariotti, Gino Marotta, Mario Martinelli, Rosaria Matarese, Carlo Mattioli, Antonio Mazzotti, Fausto Melotti, Sante Monachesi, Mattia Moreni, Luigi Montanarini, Rosario Murabito, Miles (Francesco Mussi), Mario Nanni, Ugo Nespolo, Claudio Parmiggiani, Romano Perusini, Pietro Plescan, Arnaldo Pomodoro, Gaetano Pompa, Giacomo Porzano
Concetto Pozzati, Carlo Quattrucci, Pierluigi Rampinelli, Piero Raspi, Berto Ravotti, Antonio Recalcati, Joaquìn Roca Rey, Franco Rosselli, Gianni Ruffi, Alfonso Salardi, Franco Sarnari, Sergio Sarri, Loreno Sguanci, Emilio Scanavino, Renzo Schirolli, Turi Simeti, Enrico Sirello, Cesare Siviglia
Sarai Sherman, Francesco Somaini, Renato Spagnoli, Tino Stefanoni, Attilio Steffanoni, Ugo Sterpini
Cesare Tacchi, Luca Vernizzi, Pasquale Verrusio, Bruno Vidoni, Daniela Zampini, Tono Zancanaro
Guido Ziveri, Giuseppe Zunica.